I often travel to the US for my academic activities and I know what kind of questions now arise among American people going to Russia. Here are these questions:
Is Russia safe?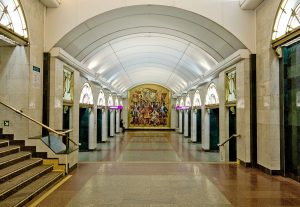 Yes, Russia is an extremely safe country to travel to. In big cities such as Moscow and St Petersburg you will be surprised how clean the cities are and how people take care of their cities. These days, you will find flower gardens next to apartment houses and you will notice that people do not throw trash in the street. Russian metro is light and beautifully decorated, and it is also very clean,
even in winter time when we have snow and ice. People are very helpful and smiling in big cities. Nobody is surprised by foreign guests. There are signs in English everywhere. In small towns, people smile less but this is not because they are bad but because the life is harder in small towns compare to big economic centres and local people struggle. However, Russian countryside is extremely beautiful and, if you have time, I recommend you to visit small towns and countryside.
There are small ancient towns just 4 hours drive from St Petersburg, such as Novgorod and Pskov.
---
Do Russian people miss communism?

We never had communism. We used to have socialism, which meant a centralized economy (so-called "planned" economy) and free education and medicine for everyone, as well as free housing depending on your career success. There was no absolute equality however, and in Soviet days there were also elite classes, such as party administrators, or scientists, or University professor (yes, a professor in the Soviet days was viewed as elite class). In the nineties Russia was transitioning to very extreme capitalism, many factories stopped functioning, education and medicine was corrupted and destroyed, numerous people lost jobs and perspectives. There was lots of everyday violence and sexism, as long as women carried all the difficulties of the transitioning time on their shoulders. And yes, in that time people started to realize that capitalism does not solve all problems but brings even more issues. Now Russian people appreciate the Soviet history and are getting conscious of the importance of culture, safety and environment. Soviet history is not only about oppression; through more than 70 years there were many great achievements. The golden age of the Russian cinema falls on the Soviet time, the so-called Khrushchev's Thaw (the sixties). And, by the way, there is still some good Soviet heritage: in Russia, there is free medicine (not without problems, but free) and smart students can get education for free. At the same time, there is lots of inequality and housing is expensive.
---
Is it hard to get around in the country with Cyrillic alphabet?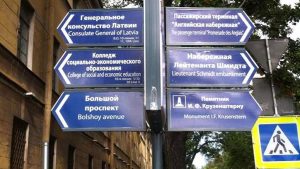 In big cities, signs in English are everywhere. However, during the tourist season it is hard to arrange a visit to popular museums without a professional help. If you want to walk in the city or travel by metro yourself, English signs will guide you well. In the countryside and in small towns there are less English signs. You can hire a private driver via me to conduct a 1-day trip to a small town.